Ballast tank blasting
Ship ballast tanks can represent corrosion control nightmares of blasting method.
Ballast tanks are one of the most costly areas in which to apply coatings in both new ship construction and ship maintenance. Being subjected to intermittent wet and dry cycles of aerated sea water places extreme demand on corrosion control methods. Harsh service environments are coupled with necessarily complex tank geometries, where hull and manholes designs dictate small, irregular tanks with difficult accessibility.

MRO has more than 15 years' experience in offering Surface Treatment Solutions in Vietnam. MRO equipment is used in some of the World's harshest environments in industries as diverse as Metal & Steel Construction, Shipbuilding, Petrochemical, Oil & Gas, Wind Energy and more MRO can help you plan and oversee your ballast tank refurbishment.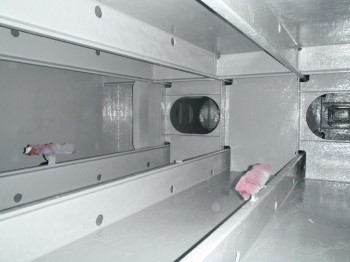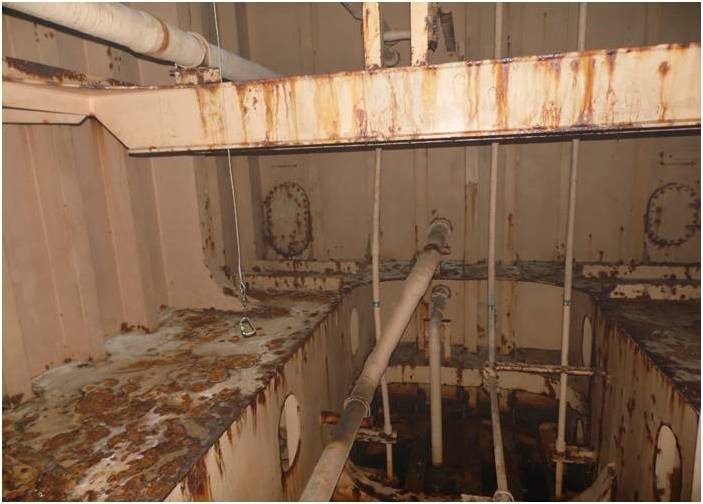 Ballast tank - before treamnent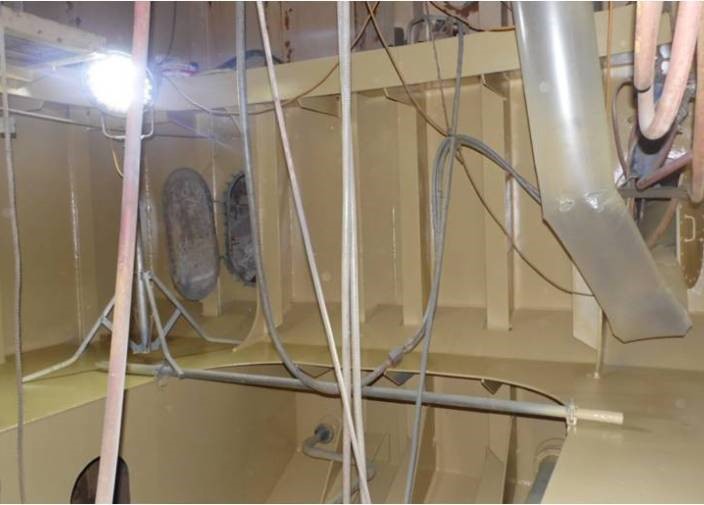 Ballast tank - after treament
Method of Surface Preparation
Deciding the most suitable type of preparation will depend largely on the size of the scope of work, as well as the surrounding factors.
For example; necessity for constant cleanliness, cargo considerations, time between or in ports, availability of professionals, supply of compressed air or fresh water... the list can be long and should be discussed with professionals before a decision is made
Mobile blast units for easy transport to all locations.
Temperature and humidity
Where will the ballast tank be? Will it be necessary to use de-humidifiers or will normal ventilation be enough?
A dehumidifier will be used in tanks to maintain a constant dry temperature and atmosphere as well as to keep the dew point at the proper range required during all operations, including drying/curing of the coating applied.
Atmospheric conditions are also a major challenge. MRO procedure requires air horns to be installed ensuring the proper air exchange for the work area
One of the best solutions for Ballast Tank Blasting is Vacuum Recovery / Dehumidifier Solution
1. Mobile Blasting Recovery Systems (MBRS)
The mobile blast & recovery system is designed for surface preparation treatment in blast room and internal of tank (cargo & ballast)
Due to mobility of the system, the blasting operation can be set up within a short period of time on site and coupled with the usage of recyclable blasting media (steel grit/shot) it offers high cost savings to the blasting process.
2. Vacuum Recovery System (ABVR)
Vacuum Recovery System is designed to recover spent dry recyclable abrasives from a blasting area into a silo for subsequent return to the blast cleaning equipment or in case of expendable abrasives, for disposal into waste hopper.
After depositing abrasive into the silo, the vacuum flow containing air and dust continues on to the section unit, where the dust particles in the stream are removed by high performance filter cartridges prior to exhausting air to atmosphere.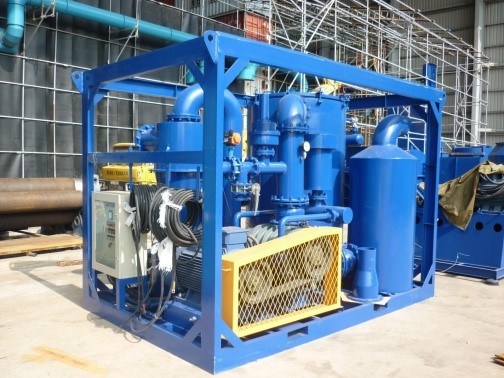 3. Dust Collector
The DC Series Cartridge Type Dust Collectors are extensively used worldwide. They are equipped with advanced filtering devices and dust removing devices with optimum working performances. Our technicians have abundant professional knowledge and will forward with you shoulder by shoulder –from analyzing your dust questions to help you design a set of dust removing system that will accompany your thriving businesses. Once you own this kind of equipment, our service network and high quality spare parts will ensure the optimum status.
4. Dehumidifier
In tropical regions this can be a major problem as the rainy season can last for weeks and bring production to a standstill. MRO's solution is able to maintain relative humidity levels at 40% RH during blasting and clean up. With a relative humidity level of just 40% RH the risk of flash rusting is almost completely eliminated, providing more time between blasting and painting.
Dehumidifiers are designed to provide the optimum climatic conditions for blasting by reducing the relative humidity.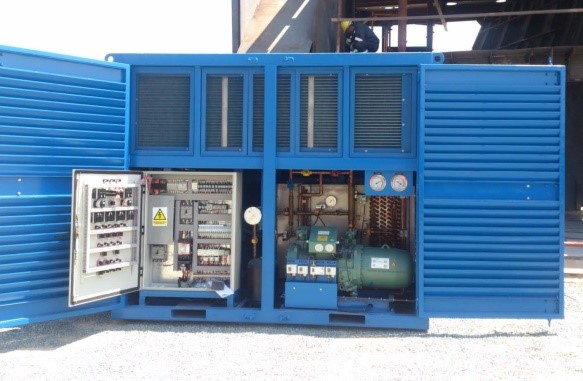 Please contact us using the tab above if you would like to find out more information regarding Ballast Tank Cleaning and Preservation